Joshua Thrift Store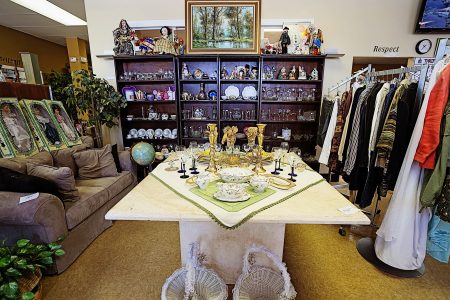 The Lord's Place Joshua Thrift Store benefits the organization in many ways.  Proceeds from store sales directly support the programs and services of The Lord's Place.  Additionally, it provides an opportunity for formerly homeless clients to complete customer service work experience training in a retail setting.  It also helps clients, as they are given vouchers to "purchase" clothing, furniture and other essential items at no cost.
The store relies solely on donations from the community.
To make a donation, please see contact information below:
7600 South Dixie Highway
West Palm Beach, FL 33405 Phone: (561) 537-4666
Hours:
Monday – Friday  10:00 a.m. – 6:00 p.m.
Saturday 10:00 a.m. – 5:00 p.m.
Deliveries and Pickups:
Monday – Friday 10:00 a.m. – 5:00 p.m.
or email donate@thelordsplace.org
Manager: Crystal Dole cdole@thelordsplace.org.