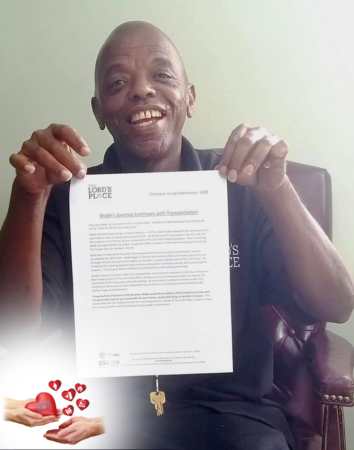 If you ask Wade, he has lived his life in survival mode.  He admits he did not always have the best life, but he "lived the life he knew how to live."
Wade had many years being in and out of prison.  In 2013, when he was released from incarceration, he was ready to make a change and evaluate his life.  He did not want to end up back in prison, and with the assistance of his family, he was connected to The Lord's Place Reentry program.  After connecting, Wade was approved for housing to reside at the Men's Campus in short-term housing and this forced the change that was needed in his life.
Wade was introduced to The Lord's Place employment services as well as mental health services provided by the CARE team.  Wade began to flourish and started to feel as if he had a purpose to live.  He began to build trust with the residents at the Men's Campus and the staff at The Lord's Place.  He completed the catering apprenticeship and was employed at Café Joshua shortly after graduating the program.  This job gave Wade confidence to know that he could achieve great things.
Wade continues to make strides in his employment, mental health, and plans for the future. Wade has been hired to work at The Lord's Place Men's Campus as a low maintenance worker to maintain the cleanliness of the campus grounds and buildings. He continues to maintain his mental health, and recently his improvements have allowed him to transition to a community mental health provider, another huge accomplishment.
If awarded the Christmas in July donation, Wade would like to address all the mechanical issues with his automobile that he purchased with his own money, saved while living at the Men's Campus.  This would allow him the freedom to look for more employment, outside of The Lord's Place, as well as reach his service providers without having to rely on public transportation.