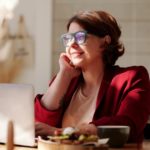 In January of 2019, Valerie's life changed. She moved to The Lord's Place Burckle Place and enrolled in the Job Ready Program.
In July of 2019, she enrolled in the Clerical Transitional Work Experience Program, assisting with administrative tasks in the main office. Unfortunately, due to some severe medical issues, Valerie had to take a leave of absence from August until January of 2020. However, she did not let this stop her from succeeding! With a lot of hard work, and help from the job training program and The Lord's Place CARE Team, Valerie completed her apprenticeship in February.
A naturally hard worker, Valerie was hired at a local pharmacy. In July, she graduated from Burckle Place and moved into graduate housing. Work was going well, but the difficulties in transportation caused her to seek alternative employment. Recently, Valerie found a job doing inside-sales, and is performing remarkably well! She enjoys what she does, and hopes to take these skills, along with everything she learned during her experience in the Clerical program to grow in her career, and potentially transition to an administrative position. Valerie has taken it a step further and recently enrolled in Palm Beach State College to finish her degree in Addiction Studies which she expects to complete in 18 months! The Lord's Place team is proud of her persistence and determination!