$20 million campaign heading to the finish line with Fortin Foundation providing lead gift
The Lord's Place is $250,000 away from being 'Home for Good' and expanding services for unhoused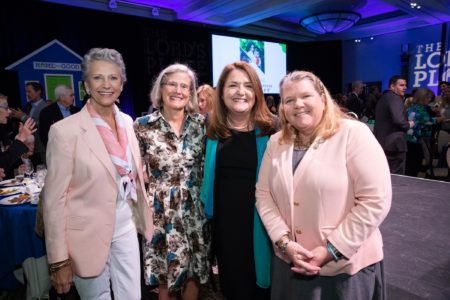 The $20 million finish line is within reach for The Lord's Place Home for Good Campaign. In a bold effort to expand services and break the cycle of homelessness for an increased number of men, women, and children in Palm Beach County, the agency launched its largest-ever campaign in 2019 with a goal of $20 million. Understanding the necessity of The Lord's Place's mission and work in our community, The Fortin Foundation of Florida stepped forward with a $4 million lead gift and Anna Mann de Peyster gave a $3 million launching contribution. Today, The Lord's Place is $250,000 shy of goal and hopeful this milestone target will be reached with community support before 2021 draws to a close.
The multifaceted campaign is allowing The Lord's Place to expand services–including job training and employment, social enterprise, outreach and engagement, and reentry–, increase its supportive housing inventory, and sustain funding to ensure more individuals and families get Home for Good. The expansion includes the construction of a new 25,000-square-foot client service center on Australian Avenue, replacing the 9,000-square-foot facility that was demolished this past August. $19.75 million has been raised to date.
"When giving to The Lord's Place, we are confident the funds are truly being used to transform lives by providing the best solutions to both prevent and end homelessness for one individual at a time in Palm Beach County. It takes the entire community–foundations, corporations, and individuals alike–to step forward and support financially responsible and ethical charities like The Lord's Place to end local homelessness for good," stated Danielle Moore, director of The Fortin Foundation of Florida.
"We continue to be humbled by the outpouring of support. Our community has come together to provide this gift to those who are poor and without a home in our community," added Diana Stanley, chief executive officer of The Lord's Place. "This is a campaign supported by the community, for our community. Every donation, large and small, makes a difference! "For more than 40 years, The Lord's Place has been finding solutions for the most vulnerable and neglected members of our community. In 2021 alone, the agency served more than 1,700 individuals. The work and mission to break the cycle of homelessness continues. Hidden in the shadows of Palm Beach County's paradise is the reality that on any given night there are an estimated 3,000 men, women, and children who do not have a safe place to call home. With additional community support, The Lord's Place can help bring more of these individuals' home for good.
"As we are gearing up for our year-end, we are going to keep our foot on that pedal. And our hope and prayer is that we are going to be able to finish this campaign by the end of this year and continue to serve all of our clients, staff, and this community for years to come," said Stanley.
To learn more about the Home for Good campaign and giving opportunities, visit thelordsplace.org/commemorative-giving.