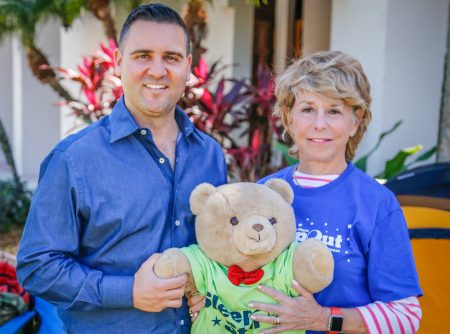 End the cycle: Join the SleepOut
It's amazing how much difference a big smile can mean to a homeless child.
By PAMELA MCIVER Special to the Daily News
Palm Beach Daily News April 2, 2017
Every year about now, I spend the night sleeping out under the stars (or the rain) to experience, at least briefly, what it's like to be homeless, as our clients at The Lord's Place know all too well. This Friday, I will once again pack my sleeping bag and participate in our 10th annual SleepOut, to raise awareness — and dollars — to help support our mission to end the cycle of homelessness in Palm Beach County.
I sleep out all night, with hundreds of others, because it lets me experience what it is like to be homeless, like those we serve, many of whom live just a mile or two from Palm Beach.
I started volunteering at The Lord's Place about 15 years ago, when we first came here, realizing I needed to do more here than just have fun.
I learned from the start that the homeless are not so different from any of us. Think of your own friends and extended families. There may be people in your world who might be homeless, were it not for a safety net of savings and support. Our homeless clients come from all walks of life, but when they arrive at our door, with broken spirits and broken hearts, they have lost that safety net because of bad health, bad luck, bad timing, bad choices.
The Lord's Place believes everyone deserves a home. The folks who live with us work hard to move through our training programs to rejoin the ranks of the employed and self-confident. I take special joy in watching the children at our Family Campus learn to dream beyond today, working to get good grades and good outcomes, learning from our coaching and counseling, to look toward a brighter tomorrow. To end the cycle of homelessness, we need to make sure homeless children don't have homeless children of their own.
I am often asked, "Why do I care so much about the homeless?" Most of us here in Palm Beach are very fortunate. Many of us have the means, the time, the skills to give back — with our talents and our treasure … and, yes, our hugs. It's amazing how much difference a big smile, a big hug can mean to a homeless child — or a mom or dad. And how much joy and hope that can provide. That's really why I do it.
Perhaps you'd like to join me at SleepOut, this Friday. You are all most welcome. But, in fact, you don't really need to sleep out, because I'll sleep out for you!
This year, our fundraising goal is $300,000, with $225,000 raised so far. And — good news, we have an anonymous donor, who will match every donation, up to $100,000. Hope you'll support us. Every dollar raised goes toward helping a homeless man, woman, child get back to school, get back to work, get back to home.
Find out more, make or donation or register for SleepOut at SleepOutTLP.org or call 561-578-4928. Pamela McIver is a Palm Beach resident and volunteer at The Lord's Place.