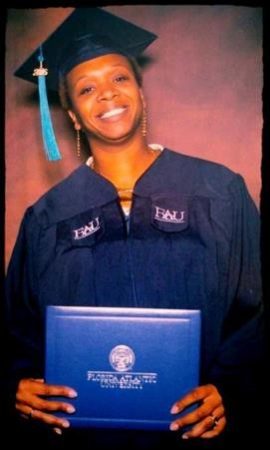 Sonya is an alum of The Lord's Place Family Campus. She has decided to share her story after a lifetime of struggles. We hope her story inspires you.
Sonya grew up in a small town in Pennsylvania. A survivor of sexual abuse, Sonya turned to drugs and alcohol. She dropped out of high school, became pregnant, and had a son. Her drug and alcohol addiction began to take over her life, and she found herself involved in criminal activities to subsidize her addictions.
In 2007, after getting released from prison, Sonya moved to Florida. She was referred to The Lord's Place by the Homeless Outreach Program. She moved into the Family Campus with her 9 year old son. Her oldest son went to live at Home Safe.
She gives credit to The Lord's Place for helping her turn her life around. While living at the Family Campus, Sonya was able to go to college, save money, quit smoking, and learned essential parenting and life skills. At the Lord's Place, Family Campus, Sonya says she made friends, and received support in a healthy family environment.
"I have come a long way since then and still moving forward" Sonya said humbly. Since she left the Family Campus, Sonya got married, had four more children, continued her college studies, and purchased a home. She made the Dean's List in 2010 at Palm Beach State College. Furthermore, this past May, she graduated from Florida Atlantic University, Phi Beta Kappa, with a BSW. She's not done studying. She's been accepted to Barry
University where she will pursue a Master's Degree. She started in January, 2017.
In 2012, Sonya lost her first son to a drug overdose. He was only 18 years old. Losing her son, inspired her seek employment in a drug and alcohol rehab treatment center, where she is currently a Family Counselor.
Sonya is celebrating almost 7 years of sobriety. She's actively working the AA program, with a sponsor. Her second son will be graduating next year from high school. She's devoted to her family, her recovery, her faith, and giving back to her community.