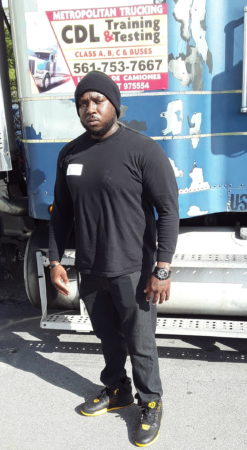 First I would like to thank God and the Sago Palm re-entry staff, Mrs. Williams and Mr. Barbary for pushing me to not only to be good, but to be great.
When I was transferred to Sago Palm, ready to go home, but was also ready to take advantage of whatever. I then met Mrs. Williams and we clicked right off the start. The reason why I say that is that she had a plan for the CDL's and Forklift programs. I became the aid for both classes, but mainly for forklift. I started helping with the CDL class then later became the fulltime aid. Mrs. Williams insisted that all of her aids had to go through with the CDL and Forklift training programs to at least get certified. I took full advantage of the opportunity and continued to strive for greatness. Note…may he rest in peace. We could not have done it without officer Cromer, AKA Pastor Cromer. Therefore, I obtained my CDL's through the DMV that comes out to the facility and I am forklift certified as well.
Upon my release I went to work release and EOS on July 20, 2019. I did 10 years in prison, but during my time of incarceration it wasn't easy or perfect by a long shot. I had to get my mind right and know what I really wanted out of life. Mrs. Williams, Mr. Barbary, Mr. Dorsey, Ms. Barbara Chieves, and Mrs. Arlene all inspired me. Furthermore, I had to get somethings together upon my release such as court fees and to obtain my Driver license. After doing that, Mr. Dorsey and Mrs. Williams put a plan together to assist me during my release, that I will never forget. I was able to go to trucking school and The Lord's Place paid for it. I finished school on 9/15/2020 and went to the DMV to receive my CDL's License that The Lord's Place also paid for. I'm now currently on my way to Nashville Tennessee for a trucking job opportunity with Western Express. I wouldn't have been able to have done this without those people that are now my friends and for all of you that's in the background.
I would like to thank those that I've reached out to and that came through for me no matter what. I can't express or say enough, but that I am so glad that you all have these programs in place for us. It's the choice of the individual to take advantage of the opportunity.
Once again, I say thank you, to you all.