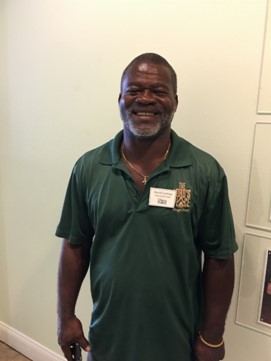 David, a Pahokee native, is an alumni of The Lord's Place, and a beloved staff member of Joshua Thrift Store. Before he came to us, David's drug addiction became of his life's journey. At the age of 35, David went to prison for distribution of drugs and served a sentence of 15 years. After his release, he moved to California, to live with his sister, and make a life over there. Not long after that, David reconnected his wife, and in 2009, David moved back to Florida to reunite with his wife. They purchased a condo together, and they were happy. Unfortunately, he began to experience marital problems, and they both opted to separate.
David reports his wife took everything, and David ended up homeless. Feeling depressed and hopeless, he relapsed. In 2013, David was arrested for possession of drugs and went to jail. While in jail, someone told him about The Lord's Place. In 2014, upon preparing to be released from jail, he reached out to The Lord's Place. He met with staff member, John Gilmore, who helped him to get accepted into the Men's Campus. During this time, David had a change in his life which he describes as a "rebirthing".
David began to trust God as he rearranged his life. He began to move forward, didn't look back, and left the past behind him. He graduated from The Lord's Place Job Ready Program, and completed the Retail Apprenticeship Program. Soon after, he applied for a full time job at Goodwill where he remained for a year. In 2015 a Supervisor/Team Leader position became available at The Lord's Place Thrift Store. David applied and was hired. Today, David remains drug free and continues to be a Supervisor and dedicated team member . In May of 2016, he moved to The Social Enterprise Graduate House. He purchased a car, opened a savings account, and has a positive outlook on life.
David says despite his challenges that he faced throughout the course of his life, he remains focused on pursuing his goals. David with his beautiful smile says life is worth living again because of The Lord's Place. He has gained his confidence back, working hard, and is moving forward to give back.