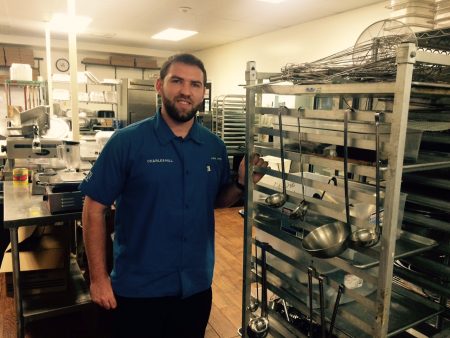 Has something amazing ever changed your life?
For me, that something was The Lord's Place.
My name is Charles; I currently work as the Sales Coordinator at Café Joshua Catering, a social enterprise of The Lord's Place. I loved and appreciated The Lord's Place from the moment I started working here as an apprentice four years ago. At that time in my life, I was very lost and depressed. I didn't have any income, I stopped going to college, my car had broken down, I was single, and I was in a lot of debt. I feared I might have become homeless if something didn't change quickly.
After a long period of job searching at my mom's house, I finally got a promising call back from a lady who worked for a nonprofit called The Lord's Place. She gave me an opportunity to go through an apprenticeship program with their social enterprise called Café Joshua Catering. In just two weeks, I was earning an income and learning how to work for a catering business.
I was growing fast professionally and as a positive-thinking person. Two months later, I was hired as a part-time employee to help with the amazing growth that the social enterprise was experiencing. I was able to then fix my car and I started feeling a lot better about myself. Time was flying by; before I knew it I was given a full time position, and I was able to buy a newer car and pay off my debts.
Now today, over four years later… I have more than I could've ever asked for. I have the loving support of my family, my girlfriend and The Lord's Place. I'm going back to college starting this Fall of 2016 and I'm happy to say I love where The Lord's Place has brought me. I am looking forward to my future now.