Labor of Love
Over the next few weeks, we will be introducing you, our friends, to the clients of The Lord's Place, and the staff members who work side by side, always lending a hand-up.
It isn't easy work – it is a Labor of Love – but we love helping clients achieve their dreams of independence.
Hannah & Edna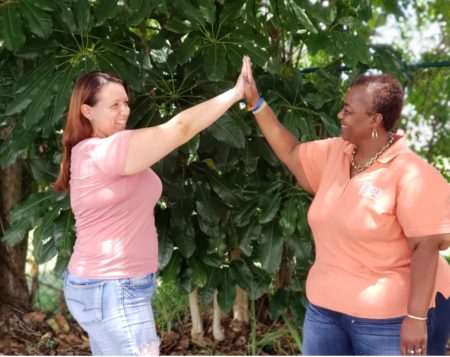 Hannah smiles at Edna, her Client Advocate at The Lord's Place and is thankful for the Labor of Love Edna has provided for the past eight months.  Smiles and happiness disappeared from her life for a time but now they are back.  With her long brownish red hair and a sparkle in her eye, she is the first one to smile and say hello to the many people waiting for lunch at The Lord's Place Café Joshua.
Hannah enjoyed a happy childhood with many friends.  She married and was happy for the first four years of her marriage. Then life took a turn. She had suffered from severe depression for years, but did not know what to do to handle it. After her first child was born, it intensified into Post-Partum Depression and kept intensifying with the subsequent birth of her other three additional children.
Life became hectic and unmanageable for Hannah. She made bad choices and ended up in jail. While Hannah was incarcerated, her husband had charge of the small children and was found with drugs and guns in their home. The Department of Children and Families placed the children in protective custody.
Upon her release and unable to cope with the loss of her children, Hannah struggled with substance abuse, hospitalizations and homelessness, resulting in a 9-month jail sentence.
During her last time in jail, her life started to change when she learned about The Lord's Place.
Hannah started getting visits from a client advocate from The Lord's Place reentry program.  She was accepted into the program, and when a bed became available at The Lord's Place Halle Place, a home for women coming out of incarceration, she moved in.
At Halle's Place, Hannah met her Client Advocate, Edna who through a Labor of Love, helped her start to heal emotionally, physically, mentally and spiritually.  Through therapy, she has worked through her problems. Edna could relate to Hannah and understood exactly what she was feeling.
Before The Lord's Place, Edna had a similar story with incarceration and has benefited from the Lord's Place on her journey to wholeness.  She is now a case manager helping Hannah and others on their journey.
In 2016, Halle Place opened and Edna was one of its first client advocates. For the past eight months she has worked side-by-side with Hannah and supported her progress.
Hannah entered The Lord's Place Café Joshua Culinary Apprentice Program where she has been learning basic work-place skills, how to work with different types of people in a work setting, and has enrolled in Anger Management and Cognitive Behavioral Intervention classes.
Edna saw something in Hannah that she didn't see in herself until recently. Hannah's growth and hard work was bringing back her self-confidence and her esteem.
Hannah has nearly completed her apprenticeship and is learning as much as she can in the culinary field to pursue her dreams.  At her recent court appearance, the judge praised Hannah for her growth and progress, proclaiming that she was proud of her and that her progress would give her a smile for the rest of the day!
Hannah has lived at The Lord's Place Halle Place for eight months and is hoping to graduate by June 2020.  Hannah's immediate goal and dream is to become independent with a culinary profession. Her ultimate goal is to be reunited with her children, and be the wonderful mom she knows she is.
Edna says that Hannah is amazing and has come a long way as they worked together. She struggled at first but, through their Labor of Love, she has turned her life around.  She would like to see Hannah continue with her sobriety, find success and fulfillment in a career, and be reunited with her children.
Aileen, Marie and J.J.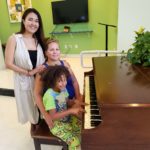 When Aileen first met The Lord's Place Client Advocate Marie Garcia, little did she know that Marie would be there every step of the way as she healed and journeyed back to the hopes and dreams she held so long ago.
Due to a volatile and dangerous living situation, Aileen and her son John, (J.J.) found themselves homeless. After calling The Lewis Center, their situation was assessed and they were safely placed in temporary housing until there was an opening with The Lord's Place at the Family Campus.
She heard that The Lord's Place was a safe place with a good reputation and was a bit nervous but overjoyed at the same time to hear she would have her initial interview to join The Lord's Place family. During that first meeting, she met her client advocate, Marie, who, at that time, had worked for The Lord's Place for 6 years. Marie loves working with families, as she feels that is her calling, and she can help make a difference in their lives. The Labor of Love began.
Aileen moved into the Family Campus. It was the best thing that had happened to J.J. and her in a very long time.
She immersed herself in an environment that helped her heal mentally, physically and emotionally. Marie stated, "Aileen took full advantage of every class, workshop, and group. Her philosophy is that even if she can gain just one new skill or piece of knowledge, it is worth it." Those she felt benefitted her the most were the Parenting Classes and therapy sessions. Aileen did not believe she was a good parent when she first came to The Lord's Place. These classes helped her work through her doubts as she learned skills to help her build her new life.
Aileen continues to live at the Family Campus with seven-year-old J.J. J.J. loves the youth services program and utilizes the youth center as much as possible. He has made some great friends there. He loves playing the piano and math, and his is happy to have tutors available to help with homework. J.J. even went to camps this summer, including Zoo Camp, which he loved.
Aileen spends most of her days working part time with a property manager, budgeting her money, paying back past-due child support, taking care of her family's needs, improving her credit score, and saving! Recently, she attained another milestone: she regained her driver's license. She has another goal in sight – finally getting her G.E.D.
Watching the Labor of Love between Aileen and Marie, one can see a strong bond. "Marie has always been very helpful and has encouraged me to learn as much as possible," Aileen said. "She has worked hand-in-hand with me to help me prepare for life after The Lord's Place."
Marie says that Aileen has grown tremendously and is doing very well. If she had one wish, it would be that Aileen continues to see in herself the wonderful mother that she has become and that she continues to have the confidence to be an amazing mother.
Both Aileen and Marie are now preparing for the future. Marie just completed her Master's Degree in Social Work in May and is looking forward to getting her licensure in social work. Aileen and J.J. are packing up their apartment! Aileen has found a wonderful place to live close to J.J.'s new school. Everyone has hopes and dreams and for Aileen and J.J., it is no different; Aileen would like to go back to school and J.J. wants to be a Ninja Turtle or maybe a police officer. Until then, he will keep his grades up in math and hopes that one day he will get a dog.
Breaking the cycle of homelessness starts with one small step and Aileen and Marie are prime examples of what a Labor of Love can accomplish.
Damair & Jeanne – Cooking up a bright future!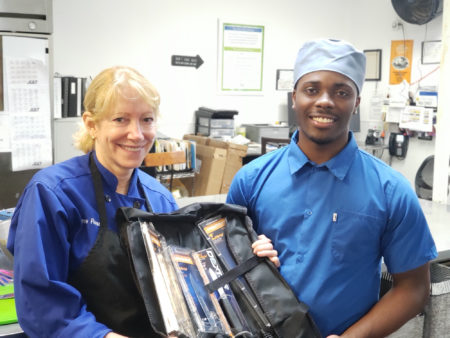 The story has been told many times –- the high-school graduate who dreamed of playing college football. Happily, Damair was admitted to college; however, when he learned what it would cost he chose to stay home so as not to burden his mother with the finances.  He needed to make money, but his choices landed him in jail. He persevered though, thought of his future, and contacted The Lord's Place Reentry Team. Damair kept telling himself, "I am going home."  Instead of seven years in jail he was released after one.
Damair was released from jail to The Lord's Place William H. Mann Place for Men, and applied and was accepted into the Café Joshua culinary apprentice program.  He believed that having culinary skills would give him more opportunities for his future.
In the Culinary Program, Damair came under the guidance of Chef Jeanne Ross.  She worked closely with him, teaching him the basics, helping him improve and encouraging his creativity. She quickly saw he had a natural talent for the craft.
How did she know?  She saw Damair as her "Labor of Love" and poured herself into helping him succeed.
For 18 years, Chef Jeanne was the Southeast Regional Director of Corrections Mental Health, Michigan Department of Corrections/Community Health.  Upon retiring, Chef Jeanne attended culinary school, and soon secured a position at Flagler Steak House at the Breakers Palm Beach. It was at The Breakers that she learned about The Lord's Place and our services.
She saw The Lord's Place as a place where she could apply both of her passions — psychologist and chef!  Today, she is The Lord's Place culinary instructor working with culinary apprenticeships, including Damair.  She immediately recognized that Damair was a special young man who possessed unusual natural talent, drive, motivation and laser-like focus. A very quick learner, Damair knew naturally how to build on one skill to learn another.
With guidance from Chef Jeanne, the Culinary team and Employment specialists, Damair passed through the three levels of the culinary program in six months. (It usually takes nine). He wanted to learn more and was soon the first person at The Lord's Place to earn a Level 4 position.  He then earned the privilege of working with the culinary team at the Palm Beach Sailing Club, which is by chef's invitation only. Damair landed a position at a restaurant in Boca Raton, where he is being groomed for leadership.
This July, after only six months in the culinary program, Damair graduated and received his chef knife kit, a measure of his professional accomplishment.
What's next for Damair?  Damair's dream used to be football, but he now dreams of becoming a head chef. Since learning communications skills and working as a team – applying some of the same principles from the football field to the kitchen, Damair has excelled in all areas and just wants to save money and become independent.
Damair says that The Lord's Place provided many resources that he is using to build a brighter future for himself. "I wouldn't be in the position I'm in now if it weren't for The Lord's Place's programs and services," he says.  We couldn't be happier for him.