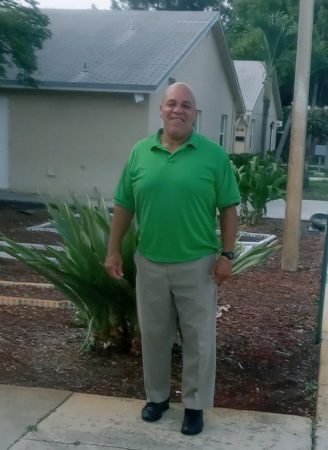 Rogero was born and raised by a loving family in Boynton Beach. He was an exceptional athlete, lettering in football and also playing on the local baseball team. Rogero had professional abilities until he began to associate with the wrong crowd. Soon, his poor judgment of friends took him down a path that landed him in jail and prison multiple times.
During Rogero's last stint in prison, he began receiving and accepting counseling from his brother. Finally, he started thinking about his decisions were impacting his life, and he was ready to make better choices and decisions in his life. While still in prison, Rogero enrolled in and was accepted to join The Lord's Place Reentry program.
He was released from incarceration on September 6, 2020, to The Lord's Place William H. Mann Place for Men. From day one, Rogero was willing to admit that he was ready for a change in his life and sought the help of a spiritual leader.
Rogero has demonstrated a desire and a willingness to take advantage of all of the opportunities provided to him through The Lord's Place and as a resident at Mann Place that could help him advance his life. He has taken advantage of learning job skills through the Job Ready Program and gained extensive employment skills through interning in the retail apprenticeship program at The Lord's Place Joshua Thrift Store, eventually leading to gainful employment at Publix Supermarket. He began addressing his substance use issues and concerns immediately, and continues to be proactive in his recovery attending weekly NA/AA support groups and working with a Sponsor for additional support. Rogero feels that staying drug and alcohol-free is the foundation for all his achievements.