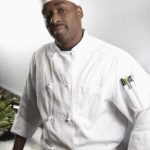 Johnny came to The Lord's Place in November of 2018. Since then, he has taken a very active role in creating a life he can be proud of. He completed the Job Ready Program and enrolled in the Culinary Transitional Work Experience Program in December of 2018. With his positive energy and optimistic attitude, he graduated from the program in September of 2019 and was promptly hired by a local bakery (Loic Bakery) as a kitchen assistant. Due to COVID restrictions, Johnny was furloughed for several weeks but was reemployed in May.
Since then, Johnny has continued his mission to create a better life. He can be found around the office almost every day, looking for affordable housing and a second job opportunity. He helps staff with various tasks, and each week, he meets for private tutoring sessions to prepare for his GED test.
"I went through the culinary program at The Lord's Place for nine months and completed it. The next week I got hired at a bakery shop, working as a prep cook and dishwasher. I've been there since September 2019. I was living with a friend that went through the program with me and his family. That did not last. Two weeks before COVID hit, I left them hoping I would find something that I could afford. Then COVID hit, and I was let go from my job from February to the end of May 2020, so that had me out there without a job homeless. It felt crazy cause I'm like is this happening to me right now. Through all that I still kept a positive mind. I still kept going to my GED sessions with Ms. Janice, keeping in mind I'm here with no job, homeless, no family. I got my job back at the bakery working part-time. Fast forward to September and I finally found a place after 6 to 8 months of hard times, and I'm hoping that now I will be able to accomplish getting my GED and finding a good restaurant job where I can grow and accomplish my goal of becoming a chef."
Johnny has a humble and grateful attitude and a contagious smile. His belief that with hard work, mixed with his bright and cheerful personality and optimism, really paid off – Johnny was presented with keys to an apartment on September 1, 2020! We are so excited to see what incredible things are in store for Johnny. We know he will succeed!
Click here to learn more about the Culinary Work Experience Program