Volunteer
The Lord's Place staff is thrilled to have volunteers to support our programs. Volunteers play an integral part in providing our clients with esteem-building, respectful services.
A key need for The Lord's Place is volunteer help at our Joshua Thrift Stores.
To volunteer with us we ask that you fill out this application and then attend one of our monthly volunteer orientations. After this point we will be able to match you with a program that best matches your interests and skill sets!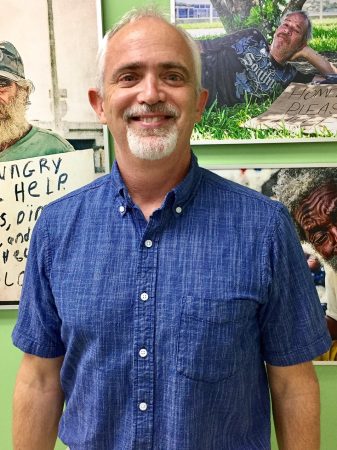 For more information, and to hear about the next volunteer orientation,
please contact David Rogers, Volunteer Coordinator at
volunteers@thelordsplace.org or call 561-537-4676.
The Lord's Place will host a volunteer orientation at Noon on Wednesday, August 18th. Currently, orientation is being conducted virtually, through a Zoom meeting.
To register for a specific orientation date, please send your preferred orientation date/time to volunteers@TheLordsPlace.org, along with your volunteer application.
Volunteer Coordinator David Rogers will then forward to you the information you'll need to join the meeting via computer, tablet or smart phonn
Serving Up Volunteer Opportunities
The following volunteer positions are now available at The Lord's Place:
Garden tenders – William H. Mann Place, 1750 N.E. Fourth St., Boynton Beach, FL 33435. Needed three to four times a month (one or two hours per visit) for maintenance of the vegetable, butterfly and zen garden.
Assistants – Joshua Thrift Store, 901 US Highway 1, Lake Park and 750 S. Military Trail – Four and eight hour shifts available.
If interested, complete an application and send it to Volunteers@TheLordsPlace.org.
For more information, contact Volunteer Coordinator David Rogers at drogers@TheLordsPlace.org.
IMPORTANT VOLUNTEER DOCUMENTS: