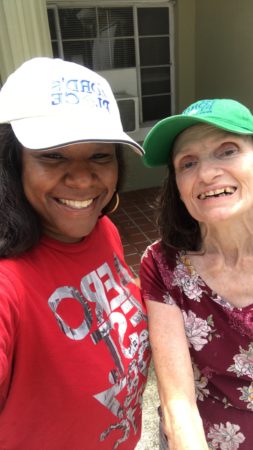 "I never knew that I could have a major impact on someone's life, and this makes me feel complete inside," says Tarcel, an Outreach Peer Specialist at The Lord's Place. This is how she knows.
A woman named Helen was living in the home she owned when a couple she did not previously know befriended her. Over a period of months they began exploiting her and eventually convinced Helen to transfer ownership of her home to them. She was evicted from the home she signed over and lost everything.  Helen, who is elderly and has a disability, became homeless and ended up living in a motel.
That was when Tarcel began working with Helen. She was able to find housing for her, and resources to assist Helen in obtaining clothing, furniture and household items from The Lord's Place Thrift Store. Tarcel also helped Helen update her food assistance card so she could eat.
With an independent spirit, Helen is still close with Tarcel, who assists her with transportation and visits to Legal Aid, which is helping Helen fight to have her home returned to her.
Today there is hope in Helen's eyes. She loves The Lord's Place and especially enjoys coming to eat lunch at Café Joshua during the week.
"I, too, am thankful for The Lord's Place. We truly do care about the most vulnerable individuals in this community," Tarcel said.
Help us continue to provide life changing resources.  The following items are urgently needed this summer:
New underwear and socks for men, women and children
Lightweight baby blankets and diapers in all sizes
Sun screen and rain ponchos
Move – in kits with cleaning supplies and other items for those moving in housing.
Please drop off (indicate "Street Engagement Request" on your donation) at 2808 North Australian Blvd., WPB or for more information please contact (561) 578-4841.