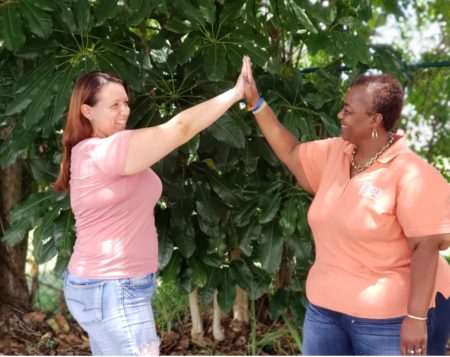 Hannah smiles at Edna, her Client Advocate at The Lord's Place and is thankful for the Labor of Love Edna has provided for the past eight months.  Smiles and happiness disappeared from her life for a time but now they are back.  With her long brownish red hair and a sparkle in her eye, she is the first one to smile and say hello to the many people waiting for lunch at The Lord's Place Café Joshua.
Hannah enjoyed a happy childhood with many friends.  She married and was happy for the first four years of her marriage. Then life took a turn. She had suffered from severe depression for years, but did not know what to do to handle it. After her first child was born, it intensified into Post-Partum Depression and kept intensifying with the subsequent birth of her other three additional children.
Life became hectic and unmanageable for Hannah. She made bad choices and ended up in jail. While Hannah was incarcerated, her husband had charge of the small children and was found with drugs and guns in their home. The Department of Children and Families placed the children in protective custody.
Upon her release and unable to cope with the loss of her children, Hannah struggled with substance abuse, hospitalizations and homelessness, resulting in a 9-month jail sentence.
During her last time in jail, her life started to change when she learned about The Lord's Place.
Hannah started getting visits from a client advocate from The Lord's Place reentry program.  She was accepted into the program, and when a bed became available at The Lord's Place Halle Place, a home for women coming out of incarceration, she moved in.
At Halle's Place, Hannah met her Client Advocate, Edna who through a Labor of Love, helped her start to heal emotionally, physically, mentally and spiritually.  Through therapy, she has worked through her problems. Edna could relate to Hannah and understood exactly what she was feeling.
Before The Lord's Place, Edna had a similar story with incarceration and has benefited from the Lord's Place on her journey to wholeness.  She is now a case manager helping Hannah and others on their journey.
In 2016, Halle Place opened and Edna was one of its first client advocates. For the past eight months she has worked side-by-side with Hannah and supported her progress.
Hannah entered The Lord's Place Café Joshua Culinary Apprentice Program where she has been learning basic work-place skills, how to work with different types of people in a work setting, and has enrolled in Anger Management and Cognitive Behavioral Intervention classes.
Edna saw something in Hannah that she didn't see in herself until recently. Hannah's growth and hard work was bringing back her self-confidence and her esteem.
Hannah has nearly completed her apprenticeship and is learning as much as she can in the culinary field to pursue her dreams.  At her recent court appearance, the judge praised Hannah for her growth and progress, proclaiming that she was proud of her and that her progress would give her a smile for the rest of the day!
Hannah has lived at The Lord's Place Halle Place for eight months and is hoping to graduate by June 2020.  Hannah's immediate goal and dream is to become independent with a culinary profession. Her ultimate goal is to be reunited with her children, and be the wonderful mom she knows she is.
Edna says that Hannah is amazing and has come a long way as they worked together. She struggled at first but, through their Labor of Love, she has turned her life around.  She would like to see Hannah continue with her sobriety, find success and fulfillment in a career, and be reunited with her children.