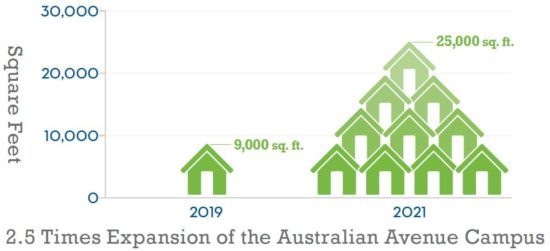 In the summer of 2021, we began building a 25,000-square-foot building on the footprint of our current Australian Avenue Campus. It will expand our spectrum of programs: Housing, Job Training and Employment, Social Enterprise, Outreach and Engagement, and Reentry. It will also be home for a newly remodeled Café Joshua, a restaurant setting where those who are homeless are treated with respect and dignity and are encouraged to enter our programs. The Café has been the heartbeat of the agency for more than 30 years.
After completing our due diligence, we determined that remaining on Australian Avenue was ideal for a variety of reasons, which include: the location is known to our community and home to our clients, we own the property, and we have an established and welcome presence in the neighborhood.
Will you help us welcome more people? Will you take this journey allowing them to be Home for Good?