SleepOut
We Are Grateful!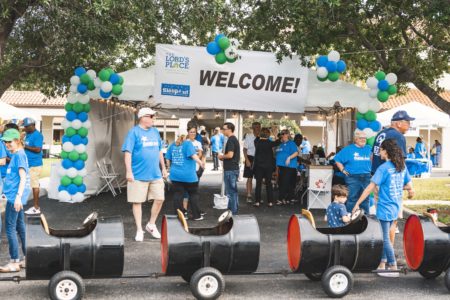 Sunshine greeted close to 600 attendees at The Lord's Place 12th Annual SleepOut last Friday, April 5. The event started an hour earlier and had twice as many activities thanks to our friends at Palm Beach County Sheriff's Office, including a train, bounce houses, balloon art and horses! The theme "We are Family" abounded as we greeted clients, volunteers, supporters and staff – all who have become our community family.

Even though light rain came around 6:30, it was just a reminder of what our clients go through on a daily basis. Everyone gathered for a program full of stories and songs that were uplifting and inspirational.

As promised, The Honorable Ann Brown matched the $300,000 that the community worked tirelessly to raise – the surprise came when she also matched the additional $14,000 that was raised and another gracious friend of The Lord's Place, Anne Kelly donated $75,000.
The grand total for the event will surpass $700,000!
On behalf of our clients, and those we serve, we are beyond grateful for the overwhelming support from our community family. These funds will be used for the life-changing programs and services of The Lord's Place. Thank you!
Thank you to our 2019 Sponsors!!
To see pictures from Sleepout 2018, click here.  A great time was had by all!

To see more Photo Booth pictures, click here!