Ending Homelessness Breakfast
The virtual Ending Homelessness Breakfast is free for everyone!

As always, we have an inspiring program planned for everyone and we can't wait for you to see it.
Even though the event is free this year, we still need your generous donations to continue delivering our life changing services to our most vulnerable neighbors.
Make A Donation     Become A Sponsor    watch the program

Please join us for this virtual event with a twist!  Brought to you from the Kravis Center stage, this FREE story-filled event will be sure to prepare you for the holiday season in a safe way for all to enjoy.
As our community knows, nothing has ever stopped The Lord's Place from meeting our mission to end the cycle of homelessness. And nothing will stop us now from clearing the way to help those we serve.
We hope you will join us virtually on November 18th, as well as give a donation.  Community partners and individuals have already come together to raise $125,000, and we ask you to join this community effort to meet our $250,000 goal so we can continue to clear the way for our clients.
We appreciate your understanding as we navigate this new world together.  Thank you in advance for your support of The Lord's Place 14th Annual Ending Homelessness Breakfast. Our clients count on us, and we know we can count on you!
Kurt Gehring – Chairperson of the 14th Annual Ending Homelessness Breakfast

Sponsorship Opportunities Still Available

To learn more about becoming a sponsor contact mmunoz@thelordsplace.org.
For more information about sponsorship benefits, click here.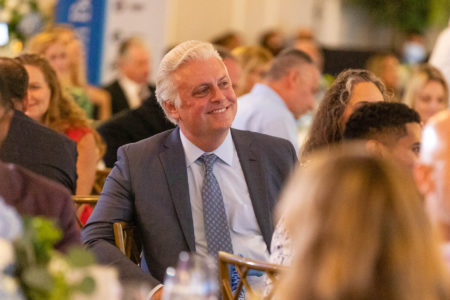 Kurt Gehring is the CEO of Gehring Group | Bentek. An alumnus of Florida State University, Kurt is an insurance industry veteran with more than 30 years of experience and leads his organizations with the goal of providing clients the highest level of service.
Volunteerism is a cornerstone of Gehring Group | Bentek, and Kurt leads by example when it comes to serving the community. Kurt has dedicated his time to The Lord's Place for ten years, participating in events such as the Ending Homelessness Breakfast, SleepOut, An Evening of Dinner and Song, and serving Thanksgiving meals to more than 300 clients of The Lord's Place. Kurt has a passion for flying and has been a pilot for more than 20 years.
When he's not above land, you can find him boating and fishing the high seas down in Key West.
Thank you to our 2021 sponsors!