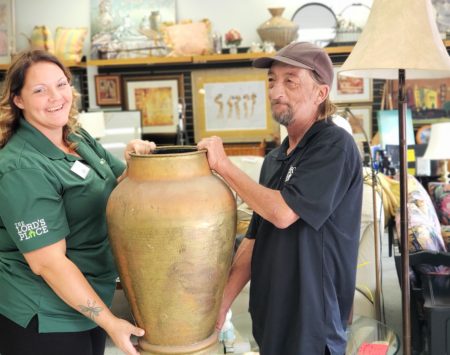 Bulldozers, backhoes and excavators makes Eric's face light up, bringing back happy memories of his 10 yeas as a heavy equipment operator.  He was devastated when he lost his job, couldn't find steady work and lost everything.
He was homeless off and on for eight years. His situation started to change when he enrolled in the Job Ready Class at The Lord's Place.  Within a few months he began living at The Lord's Place William H. Mann Place for Men and kept going to classes hoping for a job so he could once again become independent.
Crystal, a manager at The Lord's Place Joshua Thrift Store, entered Eric's life five years ago.  The rest of the story is another Labor of Love at The Lord's Place.
Eric found that he enjoyed and excelled in Microsoft computer programs taught in the Job Ready class. Crystal recognized this talent and saw potential in Eric, despite his extremely shy demeanor, and knew that she wanted to hire him to work in the Joshua Thrift Store.  Years before, someone saw the same potential in Crystal when she was a client at The Lord's Place.  She worked hard and rose to the position of Joshua Thrift Store manager. "We share our stories to help other people. It helps us connect to each other." Crystal finds a way to connect with each person who enters the store, and through this, she connected with Eric.
Working with Crystal helped Eric blossom into the effective customer relations professional he is today. When he first joined the Joshua Thrift Store staff, he found it difficult to talk around others. Through coaching and achieving success step by step, his confidence has soared. He now talks to customers comfortably while working the register in the very front of the store. He's learned how to do each job within the Thrift stores, and hopes to one day be assistant manager.
Crystal is getting ready to open the third Joshua Thrift Store at the end of September.  She is happy to see more jobs become available as well as opportunities for retail apprentices. The Labor of Love will continue and this time, Eric will be able to help guide the next person in their journey toward independence.
Eric has come a long way in his journey with The Lord's Place. He shows immense personal growth, but remains humble in his progress and accomplishments. Just recently, he was able to tell his story for the first time. He is finally able to feel like he belongs.
Eric is emphatic when he says The Lord's Place saved his life. His health was seriously declining when he was homeless. He now has health insurance and short-term disability, and has his own apartment.  Thanks to Crystal's Labor of Love, Eric shares a great working relationship and a mentor, and has learned to trust again. This week he celebrates his fifth anniversary as a staff member at The Lord's Place Joshua Thrift store.