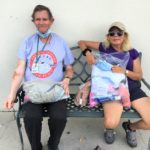 Lucy & Doug are a devoted married couple who became clients after being a part of our Lunch & Learn and Job Ready programs earlier this year.
Doug is a veteran, who enjoys scheduling work and Lucy is a cook who became one of our culinary students through our Cafe Joshua transitional work experience program. Lucy and Doug stopped by a couple of weeks ago, thrilled to receive new sneakers and a few articles of warm weather clothing, sunscreen and hygiene items. Recently, the couple was housed on a short-term basis in a hotel, due to Doug's veteran status. They'll receive rental assistance once they are able to find a new place to rent.
Doug and Lucy especially wanted to convey their thanks to our volunteers at TLP for their generosity, but most of all for demonstrating that people like themselves are not forgotten despite COVID-19's restrictions and challenges.