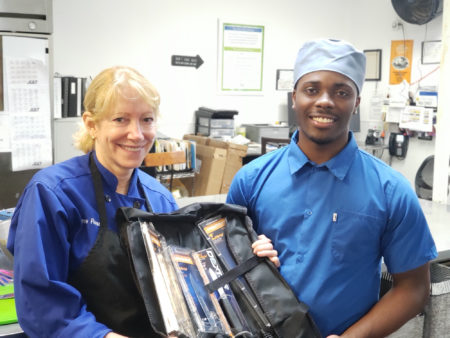 The story has been told many times –- the high-school graduate who dreamed of playing college football. Happily, Damair was admitted to college; however, when he learned what it would cost he chose to stay home so as not to burden his mother with the finances.  He needed to make money, but his choices landed him in jail. He persevered though, thought of his future, and contacted The Lord's Place Reentry Team. Damair kept telling himself, "I am going home."  Instead of seven years in jail he was released after one.
Damair was released from jail to The Lord's Place William H. Mann Place for Men, and applied and was accepted into the Café Joshua culinary apprentice program.  He believed that having culinary skills would give him more opportunities for his future.
In the Culinary Program, Damair came under the guidance of Chef Jeanne Ross.  She worked closely with him, teaching him the basics, helping him improve and encouraging his creativity. She quickly saw he had a natural talent for the craft.
How did she know?  She saw Damair as her "Labor of Love" and poured herself into helping him succeed.
For 18 years, Chef Jeanne was the Southeast Regional Director of Corrections Mental Health, Michigan Department of Corrections/Community Health.  Upon retiring, Chef Jeanne attended culinary school, and soon secured a position at Flagler Steak House at the Breakers Palm Beach. It was at The Breakers that she learned about The Lord's Place and our services.
She saw The Lord's Place as a place where she could apply both of her passions — psychologist and chef!  Today, she is The Lord's Place culinary instructor working with culinary apprenticeships, including Damair.  She immediately recognized that Damair was a special young man who possessed unusual natural talent, drive, motivation and laser-like focus. A very quick learner, Damair knew naturally how to build on one skill to learn another.
With guidance from Chef Jeanne, the Culinary team and Employment specialists, Damair passed through the three levels of the culinary program in six months. (It usually takes nine). He wanted to learn more and was soon the first person at The Lord's Place to earn a Level 4 position.  He then earned the privilege of working with the culinary team at the Palm Beach Sailing Club, which is by chef's invitation only. Damair landed a position at a restaurant in Boca Raton, where he is being groomed for leadership.
This July, after only six months in the culinary program, Damair graduated and received his chef knife kit, a measure of his professional accomplishment.
What's next for Damair?  Damair's dream used to be football, but he now dreams of becoming a head chef. Since learning communications skills and working as a team – applying some of the same principles from the football field to the kitchen, Damair has excelled in all areas and just wants to save money and become independent.
Damair says that The Lord's Place provided many resources that he is using to build a brighter future for himself. "I wouldn't be in the position I'm in now if it weren't for The Lord's Place's programs and services," he says.  We couldn't be happier for him.