This article appeared in Notables on 11/8/21
By Steve Dorfman
The Lord's Place invites all to be part of its 14th Annual Ending Homelessness Breakfast.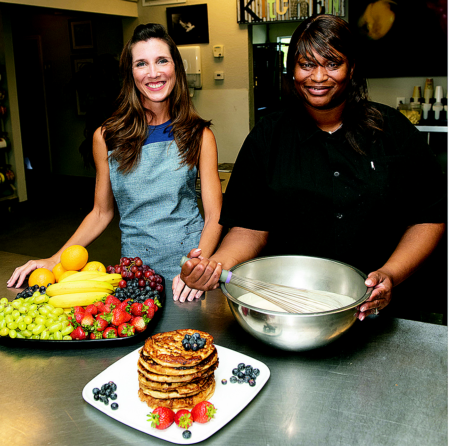 There's a heartwarming symmetry about one of the nation's premier homebuilders devoting so much of its time and resources to combating homelessness in Palm Beach County. But that's just that GL Homes has been doing as one of the primary benefactors supporting the noble mission of The Lord's Place — the highly regarded and award-winning Palm Beach County nonprofit organization dedicated to breaking the cycle of homelessness in men, women and children via its array of innovative and compassionate services and training programs. "Through housing, job training, employment and comprehensive social services, The Lord's Place clears the way for people experiencing homelessness," said GL Homes President Misha Ezratti. "GL
Homes recognizes the unique challenges The Lord's Place has faced during this pandemic, yet despite these difficulties, it continues to be a national nonprofit role model in the battle against homelessness." Ezratti's use of the term "clears the way" is intentional because "clearing the way" is the theme for The Lord's Place's next major fundraiser — the 14th Annual Ending Homelessness Breakfast on Thursday, Nov. 18, from 8:30 to 9:30 a.m.
And again, the symmetry between what GL Homes has to do before building its developments — that is, clear the property before construction can begin — is not unlike what The Lord's Place does daily, both figuratively and literally, for those experiencing homelessness. In fact, The Lord's Place is clearing the way for its own construction project — one that will build a new client-
services center so that staff, services and programs will all be under one roof. Just as it was last year, this year's breakfast will be held virtually. But that just gives online attendees the opportunity to follow The Lord's Place chef Robert Coleman's signature recipe for cinnamon swirl pancakes. Coleman runs one of the organization's most successful and popular programs: the on-site Café Joshua, where trainees help prepare meals that they then serve to their fellow homeless in a safe, café-like 'Clearing the way' for a new start — and a better life.
The ultimate goal is to help trainees become chefs who can make a stable living applying their trade. One culinary student who's forever thankful to be in the program is Chandra Martin. "I came to The Lord's Place when I was at my weakest," said Martin. "When I joined the job training program I learned about the culinary program and became so excited about cooking and making an impact in the community. Today, I feel more stable, focused and on the right track. And I am so grateful."  As delicious as the cinnamon swirl pancakes will no doubt be, the sweetest, most
gratifying part of the breakfast will be when attendees get to hear real-life client stories and learn just how impactful The Lord's Place truly is. You'll also get to meet two of The Lord's Place's most deserving award recipients: Anna Mann, who's being presented with the Ending Homelessness Award; and Daryl Houston. Houston, who's being presented with the Unsung Hero Award. The virtual event is being chaired by Kurt Gehring, chief executive officer of Gehring Group | Bentek and is being presented by sponsors, who include GL Homes, The Honorable Ann Brown, Julie and Peter Cummings, Gehring Group, Diana Barrett and Bob Vila, MM & Wes Lang, OSCWebco,  Oxbow Carbon LLC and Palm Beach County Sheriff's Office, among others.