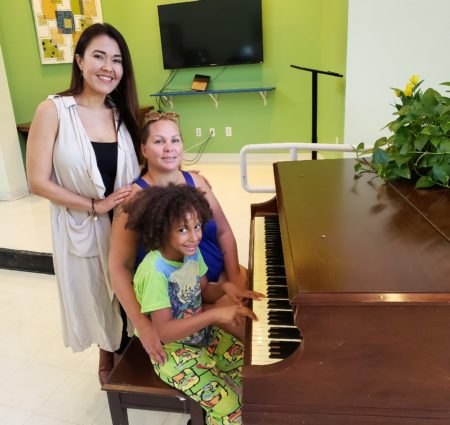 When Aileen first met The Lord's Place Client Advocate Marie Garcia, little did she know that Marie would be there every step of the way as she healed and journeyed back to the hopes and dreams she held so long ago.
Due to a volatile and dangerous living situation, Aileen and her son John, (J.J.) found themselves homeless. After calling The Lewis Center, their situation was assessed and they were safely placed in temporary housing until there was an opening with The Lord's Place at the Family Campus.
She heard that The Lord's Place was a safe place with a good reputation and was a bit nervous but overjoyed at the same time to hear she would have her initial interview to join The Lord's Place family. During that first meeting, she met her client advocate, Marie, who, at that time, had worked for The Lord's Place for 6 years. Marie loves working with families, as she feels that is her calling, and she can help make a difference in their lives. The Labor of Love began.
Aileen moved into the Family Campus. It was the best thing that had happened to J.J. and her in a very long time.
She immersed herself in an environment that helped her heal mentally, physically and emotionally. Marie stated, "Aileen took full advantage of every class, workshop, and group. Her philosophy is that even if she can gain just one new skill or piece of knowledge, it is worth it." Those she felt benefitted her the most were the Parenting Classes and therapy sessions. Aileen did not believe she was a good parent when she first came to The Lord's Place. These classes helped her work through her doubts as she learned skills to help her build her new life.
Aileen continues to live at the Family Campus with seven-year-old J.J. J.J. loves the youth services program and utilizes the youth center as much as possible. He has made some great friends there. He loves playing the piano and math, and his is happy to have tutors available to help with homework. J.J. even went to camps this summer, including Zoo Camp, which he loved.
Aileen spends most of her days working part time with a property manager, budgeting her money, paying back past-due child support, taking care of her family's needs, improving her credit score, and saving! Recently, she attained another milestone: she regained her driver's license. She has another goal in sight – finally getting her G.E.D.
Watching the Labor of Love between Aileen and Marie, one can see a strong bond. "Marie has always been very helpful and has encouraged me to learn as much as possible," Aileen said. "She has worked hand-in-hand with me to help me prepare for life after The Lord's Place."
Marie says that Aileen has grown tremendously and is doing very well. If she had one wish, it would be that Aileen continues to see in herself the wonderful mother that she has become and that she continues to have the confidence to be an amazing mother.
Both Aileen and Marie are now preparing for the future. Marie just completed her Master's Degree in Social Work in May and is looking forward to getting her licensure in social work. Aileen and J.J. are packing up their apartment! Aileen has found a wonderful place to live close to J.J.'s new school. Everyone has hopes and dreams and for Aileen and J.J., it is no different; Aileen would like to go back to school and J.J. wants to be a Ninja Turtle or maybe a police officer. Until then, he will keep his grades up in math and hopes that one day he will get a dog.
Breaking the cycle of homelessness starts with one small step and Aileen and Marie are prime examples of what a Labor of Love can accomplish.