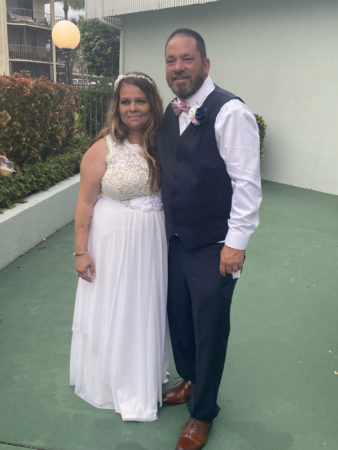 Jerry Maxwell and Margaret Denton, former clients of The Lord's Place, have paved a new life for themselves and were married last Friday, August 27, at Hidden Harbor Clubhouse in Lantana. Today they are enjoying their happily ever after – one that is sober and includes God, their families, and each other. "When you're out on the street, you feel like you're never going to be loved…no one cares for you, and you're worthless, but that's not true. The Lord's Place staff told me, 'you're worth more.' They just made me feel like family. I have nothing but gratitude," stated Margaret.
Jerry and Margaret were both praying for someone to come into their lives and help with their journeys. As fate would have it, Jerry and Margaret met one day while he was waiting to see an attorney in the lobby of The Lord's Place. Disappointingly, he noticed a ring on Margaret and said, "You're married? That must be one lucky guy." She responded that she only wears it to keep the creepy guys away.
"Every time I prayed, I ran into Margaret. I would observe her helping other clients and working with the kids and thought this is an amazing woman. I want to get to know her," stated Jerry.
They kept running into each other. When Jerry wasn't working and went to The Lord's Place, he and Margaret would have lunch together at Café Joshua, which serves hot lunches to clients of The Lord's Place during the week.
Their halfway houses were an hour bike ride apart, so they started meeting and going to Kayak Park in Lantana to talk and hang out. Jerry asked Margaret to be his girlfriend on the same bench he slept on when he was homeless. They dated just under one year before Jerry proposed in November 2019.
They moved out of their respective halfway houses and into their own apartment, where they lived for almost one-and-a-half years. After getting sober, Jerry returned to Pete's Place in West Palm Beach as a breakfast and lunch cook, where he has worked since 2013. Margaret is an alternative therapies coordinator at a treatment center in Lantana.
Jerry has been proudly sober for three years as of August 11, and Margaret will be four years sober in January 2022.
Concerning the impact The Lord's Place has had on Jerry, he said, "They were so loving and caring and believed in me when I couldn't believe in myself. The Lord's Place helped turn my life around and lay the foundation for what I stand on today–belief in myself and trust in God," said Jerry. For others who may be struggling as she once was, Margaret advises, "Reach out. There are people who care. If you put your hand over your heart and you have a heartbeat, you always have a purpose. But you really have to want it too."
"It has been an amazing journey. I am grateful for it. I am grateful I have an amazing person by my side." We are so happy for these two and wish them continued success and love!