A Home for the Holidays
A mother and her daughter receive a home in time for the holidays
Through a partnership between St. Mark's Episcopal Church and The Lord's Place.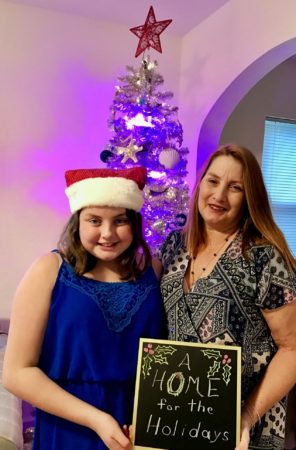 Two years ago, Robyn Kennedy could not imagine the Christmas gift that she and her daughter, Angel, are receiving this year:  a home for the holidays – and all year around. Kennedy had lost her job and was unable to make the rent and was subsequently evicted from their home.  Facing homelessness for herself and her then 10-year-old daughter, she turned to the Lewis Center, the county's homeless resource center, and through a series of referrals, mother and daughter became residents of The Lord's Place Family Campus two years ago this month.  On Friday, Dec. 15, Kennedy and daughter Angel will move into their new home just in time for Christmas.
"I'm extremely grateful for all of the opportunities The Lord's Place has given my daughter and me," she said.  "I was broken when I got there.  Through their care and their programs which helped me on many fronts, they gave me back my self-esteem.  The Lord's Place believed in me and gave me a second chance."
While Robyn was working hard to get her life back on track during her two-year stay at The Lord's Place, the congregation of St. Mark's Episcopal Church and School in Palm Beach Gardens was putting in motion a new mission that would provide Robyn and Angel with a home this Christmas.
"Our Hearts of Palm Ministry brings youth groups from all over the country here to do mission work, helping families in need with home repairs and other projects," said Hearts of Palm Ministry Director Karen Cook, whose husband, the Rev. Jim Cook, is the rector at St. Mark's.  "Through setting up the mission projects for the youth, I saw the plight of so many in our community, struggling to make ends meet.  It opened my eyes to the lack of affordable housing in Palm Beach County."
Some of the work performed by the Hearts of Palm Ministry youth was done at The Lord's Place Family Campus.  Through that relationship, Cook got to know The Lord's Place CEO Diana Stanley and the pair found they shared a passion for trying to create, even if for only one family at a time, an affordable place to live.
Cook shared the dream of creating a "Hearts of Palm House," with Fred Schwartz and Mary McFarlane, members of the St. Mark's congregation.  They agreed to buy a home to be rehabbed and used as affordable transitional housing for once homeless families working to regain self-sufficiency.
"We found the home in West Palm Beach and put out a plea to our congregation for the money and volunteers needed to rehab the home," Cook said. By December 2016 the congregation had donated $25,000 to rehab the three bedroom, two bath home in the Roosevelt Estates neighborhood in West Palm Beach.  During the past year, members of all ages in the congregation have devoted more than 3,000 volunteer hours to renovate the home from top to bottom.
In the meantime, Cook asked The Lord's Place to help them find a family that would become the first residents of the Heart of Palm House.  Stanley turned to the staff at The Lord's Place Family Campus who identified Kennedy and her daughter as the perfect candidates.  Kennedy had taken full advantage of all of the programs and services offered by The Lord's Place, including parenting classes, budgeting, and other life skills. Through The Lord's Place Job Training and Placement Program, Kennedy was hired as a crew leader for Friends of Palm Beach, a non-profit organization started by Diane Buhler which cleans debris from beaches on Palm Beach Island.  Kennedy leads a crew of four people, transporting them to the clean-up sites and supervising the clean-up efforts at various sites.  She said she loves her job and the satisfaction it gives her of making a difference.  "We clean the beaches for safety of the turtles and the other sea animals and people benefit from it, too.  It's amazing to have this job, doing something that I love."  Buhler said Kennedy performs beyond expectations in her job.  "She's awesome!  We wouldn't be where we are as an organization without her," Buhler said.
Angel, now 12, has worked hard, too.  She is a straight-A student consistently named to the principal's honor roll. "I am so proud of her," Kennedy said.  "She loves science and works hard to get good grades."
"Robyn has done everything she can to build a bright future for her family," Stanley said.  "She truly demonstrates The Lord's Place mission of breaking the cycle of homelessness.  This next step, of moving out of our Family Campus and into a home where she can afford the rent and continue to save for a stronger financial future, is what we want to offer all of our families."
To make the dream of more affordable transitional housing a reality, Stanley and Cook are hoping that other faith-based organizations and businesses will adopt the St. Mark's model and partner with The Lord's Place to purchase and rehab homes to create affordable housing for more deserving families.
"The need in our community for affordable housing is overwhelming," Stanley said.  "Many in our community are also blessed with abundant wealth.  I hope they can see the dramatic difference an affordable home can make in the life of a family and will want to model what St. Mark's has done.  It could help so many of our families take that next step toward full self-sufficiency."
Kennedy said becoming the first family to live at the Heart of Palm House has provided her with a sense of peace and renewed independence.  "The people of St. Mark's have just been amazing providing this home for Angel and me," she said.  "I have a home that is within my budget and leaves me with money to save for a down payment on a home and to buy a newer car at some point as my current car is on its last legs."
"It's a great feeling to be moving into this home and be self-sufficient," Kennedy said.  "I've worked incredibly hard to get here and I am grateful to everyone who has helped Angel and me along the way. Giving people second chances and changing lives is a wonderful thing to do!"